Specialist Dementia Care at Stanfield
At Stanfield Nursing Home, many of our residents are people living with Alzheimer's or one of the other dementia's we now know about. As a result, we understand how important specialist dementia care is for those who are experiencing the disease. 
As one of Worcestershire's leading dementia care homes, we have a team of highly trained dementia care specialists. This means we can provide the very best in specialist dementia care to help in the best ways possible. 
Enabling our residents to lead as independent lives as possible is part of our nursing home's core philosophy.
However, this is no different for our residents suffering from dementia. In fact, our specialist team are there to help them to attain this. They are also there to be there when extra support is needed.
Person-centred Care
Dementia care brings a unique set of challenges. But, through a person-centred approach we provide outstanding levels of care for those experiencing the disease. 
In order to deliver high quality specialist care, our staff have lots of training and experience. They are experts in supporting people with dementia and providing appropriate care and understanding. A key aspect in this area of care is knowing each resident as a person; not someone we are employed to care for. So, the fact that we do not use agency staff is critical. As a result, we always meet the needs of those we care for with knowledge of the individual.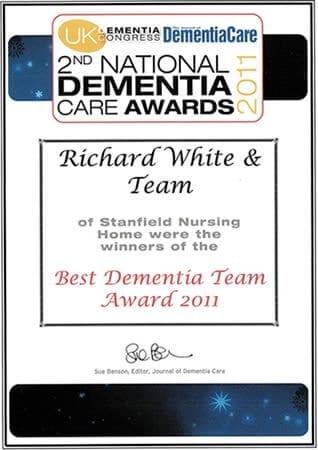 Our commitment to staying at the forefront of specialist dementia care reflects in our Continuous Professional Development Policy. In order to remain one of Worcestershire's leading dementia care specialists, we believe that there is always room for improvement and learning.
Our specialist nurses have achieved their Diploma in Dementia Care. So, they are at the forefront of delivering this continued learning commitment among our nursing home team.
In fact, they are responsible for maintaining and raising the level of dementia care our care home provides. This is through formal and informal education and training.
Our first and foremost commitment in our approach to caring for our residents with dementia, is that we must take into consideration, and act on, what they want to achieve as individuals on a daily basis.
We actively engage residents in the planning, developing and monitoring stages of their care. They are at the centre of the decision making process. Along with their families. As a result, we can make sure the dementia care we are providing them always meets their needs.
Dementia can affect communication. Therefore, we always make sure that we are using appropriate communication methods. By doing so,  people can continue to be a real partner in the decision making process.
Music Therapy and Dementia
We are proactive in keeping up to date with the latest in dementia care. In fact, we are always keen to understand new ways of helping people suffering from the disease. Music Therapy is increasingly being used as a successful treatment for improving distressing symptoms associated with dementia.
In 2012, we backed a pilot study into exploring the effects of Sound Therapy on dementia. This was inspired by one of our residents' daughters. It was conducted in conjunction with the University of Worcester.
You can listen to an interview with Richard White, Stanfield Nursing Home's owner, about music therapy and dementia here. It was broadcast on the Tony Fisher programme on BBC Hereford and Worcester on 6 March 2012. 
If you have any questions about any aspect of the care we can provide at Stanfield Nursing Home, please feel free to call or visit us.