Stanfield Nursing Home is a striking Georgian house, although the earliest parts of the building date back to 1546. It's set in a rural location in mature gardens with views over Rushwick cricket ground and open farmland towards Worcester and to the Malverns.
The house's character and surroundings add to the warm, caring and friendly atmosphere of our nursing home.
The House
Stanfield is a nursing home near Worcester, built as a private home which retains much of its charming homely atmosphere.
Residents can choose to spend time in one of our sitting rooms, social areas or quiet locations, where they can make the most of the Home's glorious setting or take an active part in the Nursing Home's life. Alternatively, they can simply enjoy the peace and quiet of their own room.
Residents may also choose to spend time in our safe and enclosed sensory gardens.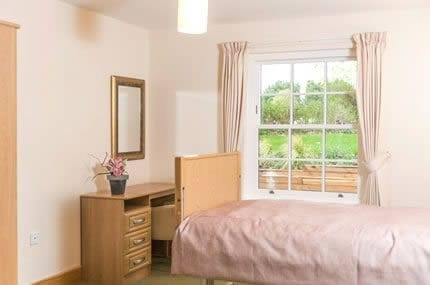 The Bedrooms
Stanfield Nursing Home's bedrooms are each attractively and differently decorated.
We have four different types of bedroom:
single rooms with en-suite showers and toilets
a single room with en-suite toilet
single rooms
a limited number of shared rooms, ideal for couples
All the nursing home rooms have wash hand basins, television points and a nurse call system.
All our nursing home rooms are appealingly furnished – we encourage residents to bring personal possessions and replace furniture with their own to help create a home from home.