Social care is an extremely tightly regulated area.
However, the regulations in our sector help to provide the reassurance that some of society's most vulnerable people receive the care and treatment they have the right to expect. For this reason, each home receives nursing home inspection reports to ensure they are meeting the required standard of care.
Every nursing home in the UK is subject to inspections. In England these are carried out by the independent regulator of health and social care, the Care Quality Commission (CQC). From time to time, their inspectors make frequent unannounced inspections to nursing homes to ensure that high standards are met and maintained.
During an inspection the CQC will gather evidence in order to help them reach judgements about the quality of the care. Following a visit, they publish a nursing home inspection report about the care and services provided.
Usually, the nursing home inspection reports produced will include an accompanying rating. This shows the CQC's overall opinion of the quality of care.
Generally speaking, ratings are an easy way for people to compare providers and make informed choices. The CQC has a four tier grading system: outstanding, good, requires improvement and inadequate.
For further information you can visit the CQC website here.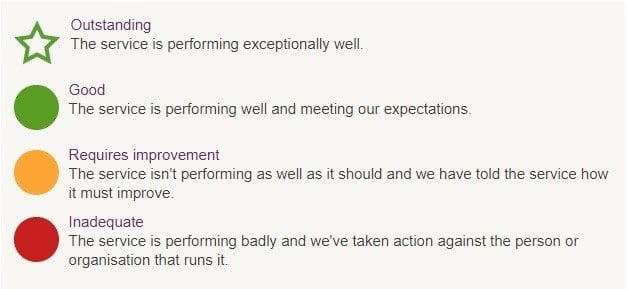 The Five Key Questions Used By The CQC When Producing Nursing Home Inspection Reports
The CQC measure all nursing homes against a set of five questions to assess the care provided. Their nursing home inspection reports set out what their findings on each of the five key questions mean for the people who use the service.
Nursing home reports are public and describe:
Both good practice as well as highlighting any concerns the CQC have.
Any evidence of a breach of regulations.
Recommendations to help the care provider improve their rating where the CQC feel there is room for improvement.
The five key questions which the CQC ask of all care services are:
1. Are they safe?
Service users should be protected from abuse and avoidable harm.
2. Are they effective?
The care, treatment and support provided achieves good outcomes, helps service users to maintain quality of life and is based on the best available evidence.
3. Are they caring?
The staff involve and treat you with compassion, kindness, dignity and respect.
4. Are they responsive to people's needs?
Services are organised in order to meet service users needs.
5. Are they well-led?
Leadership, management and governance of the organisation make sure it's providing high-quality care based around service users' individual needs. Overall it needs to encourage learning and innovation, and promote an open and fair culture.
You can find detailed information on the inspection including the report and ratings here.
Stanfield Nursing Home's Most Recent CQC Inspection and Rating
The report of our latest inspection was published in June 2019. As a result of the nursing home inspection, it was found that our service met the characteristics of "Outstanding" rating overall.
A member of Stanfield Nursing Home team commented: "I am over the moon with this news. I am very proud to be part of the Stanfield team."
"Everybody tries very hard to get it right for the residents and their supporters. It is an accolade to receive such feedback from CQC. But the most rewarding aspect of my work is our residents' feedback which can be as little as a smile."