Are you looking for a nursing home job in Worcester? Stanfield Nursing Home is a leading provider of nursing care services including specialist dementia care and palliative care. We are currently looking for an activities coordinator to join our care home.
Careers at Stanfield Nursing Home
Stanfield is a professional, sensitive haven for the elderly. We are always looking for compassionate, caring individuals to join our team and help make the lives of those we care for as enjoyable as possible.
In return, we provide a great work environment and excellent support for your professional development.
We follow a robust staff selection process when people apply for our nursing home job vacancies in Worcester. This process ensures that every new staff member who joins is both suitably skilled and shares our values. As a result, we have a high staff retention rate.
Continuous Professional Development in Care
At Stanfield Nursing Home we ensure all our team members are fully qualified and have all the necessary skills to provide care for your loved ones.
We provide a number of courses to cover all aspects of care. This can include person-centred care and protecting vulnerable adults. Therefore, ensuring we are always fully equipped to meet all residents' physical and emotional needs.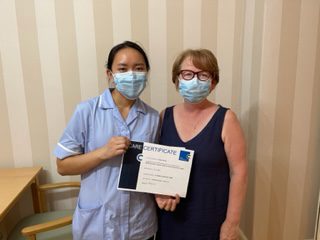 The Stanfield team recently received their Basic Life Support Training. The course content was extensive and provided the team with their first shared face-to-face learning opportunity as we move out of the necessary restrictions that the Covid pandemic placed on us all. Those attending the first of our rolling program were really pleased with the whole course, especially the opportunity to practice their newly acquired skills.
Available Jobs at Stanfield Nursing Home in Worcester
Activities Coordinator
We currently have a position available for an Activities Lead. Activities coordinators are a vital part of daily life in care homes.
The activities team oversees the events of the whole week. Our lives do not stop on a Friday, nor does that of those we support. Our activities coordinators are supported in our care home by the senior management team. They help them to achieve their ambitions and meet the ever-changing needs that the role demands.
The person who is successful in applying for the job at our nursing home in Worcester will provide a range of meaningful and engaging activities for those we support and care for. Each day varies and a sense of fun is a critical aspect of everything we do.
The qualities we are looking for:
Resilience;
Innovation;
An ability to live in the moment;
And an appreciation of the individuality of people living and working in the home.
Previous aligned experience is a valuable asset but not essential. From experience, we have found that transferable skills of supporting people are equally as beneficial in the role. We also provide continuous professional development for all staff at Stanfield.
We offer the opportunity to join a team who are committed to making each day count in the lives of those we provide care for and support.
Clinical Lead
The clinical lead will have exceptional clinical and management skills and also has a vision for innovation in fulfilling a person-centred approach for those cared for at the home.
Responsibilities
Working as part of a multidisciplinary team, the post holder will be accountable for the delivery and standards of care provided to those we care for, ensuring safe, effective, person-centred care.
To use excellent communication skills to mentor and motivate the nursing team, and in all communications with those we care for, consistent with their level of understanding.
Working with the home's Directors, Registered Manager, and administrative team to maintain and develop services to people, visitors and staff that are recognised as highly desirable to be involved in.
Ensure implementation of training plans and initiation of extra training where a need was identified for all staff members.
Qualifications
Maintain registration to practice with the NMC.
Enhanced Disclosure from the Disclosure and Barring Service.
Experience in supporting people with varying physical, emotional, and spiritual needs.
Experience in leading and supervising a team of health and social care professionals.
Effective communication skills with people, their supporters and staff of the home.
Take the first steps to becoming a valued team member at Stanfield
To apply for the Activities Lead position at Stanfield Nursing Home, please please send your CV and a covering note to richard@stanfieldnursing.co.uk. Alternatively, you can call 01905 420 459 to speak to a member of our helpful and friendly team. You can also apply via our LinkedIn page.
If you have found this useful, you may wish to read our blog about how Stanfield staff are the heart of our Worcester nursing home.