Our residents have a varied, wholesome and balanced diet. All our meals are prepared from scratch by our professional chef and his team. We take pride in using good quality, fresh, local ingredients. Our meat comes from our local butcher. Our fruit and vegetables come from the farm shop at the end of our lane.
At Stanfield Nursing Home, we serve three main meals – breakfast, lunch and a light supper. These are served in our light and airy dining room. We also serve morning, afternoon and evening tea. Hot and cold drinks are available throughout the day.
Menus change weekly and seasonally. Typically lunch might be a traditional roast, which our residents particularly enjoy. Fresh fish and traditional casseroles also make regular appearances on our menus.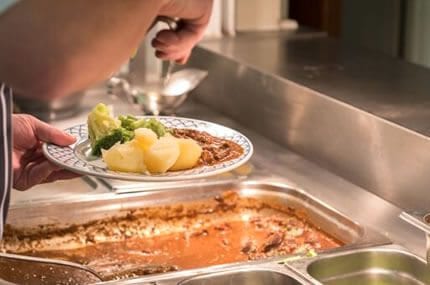 For supper, residents can choose from one freshly cooked item or a selection of soups and freshly made sandwiches if they prefer a lighter option.
As well as our menu, we also offer a wide range of extras so all our residents are well catered for. It's important to us that our residents eat the food they want to and are able to eat, which is why we make a careful note of the likes and dislikes of every resident. Naturally, we are able to cater for residents with particular dietary requirements.
We are also able to support residents who require support, including intensive nutritional support.